Medical Management of HIV/AIDS, Hepatitis & COVID CME Conference
Every year, the HIV, ID & Global Medicine Division hosts the UCSF Medical Management of HIV/AIDS, Hepatitis and COVID-19 (MMAHC) course, a three-day continuing medical education (CME) conference in San Francisco in December. Previously known as the Medical Management of HIV/AIDS and Hepatitis (MMAH) course, we have added COVID-19 to address current issues facing the medical management of these diseases.
The symposium provides focused and topical education and updates on HIV, hepatitis, and COVID-19 for clinicians from around the world. Lectures and workshops are presented by leading clinicians and researchers.
Each year's agenda reflects recent advances, discoveries, and emergent issues. The agenda is geared at a wide range of HIV providers, from novice to expert. Topics have included HIV prevention, pre-exposure prophylaxis (PrEP), antiretroviral therapy (ART) management, hepatitis treatment, other infections (STDs, HPV), and primary care management of HIV patients. Since 2020, we have also added a special focus on COVID-19.
The Medical Management of HIV/AIDS and COVID-19 Conference is presented by UCSF's Division of HIV, ID & Global Medicine at Zuckerberg San Francisco General Hospital and enrolls and provides CME credits for approximately 300 participants. It is chaired by Division Chief and Professor Diane Havlir, MD; Associate Professor Emeritus Meg Newman, MD; and Professor Annie Luetkemeyer, MD.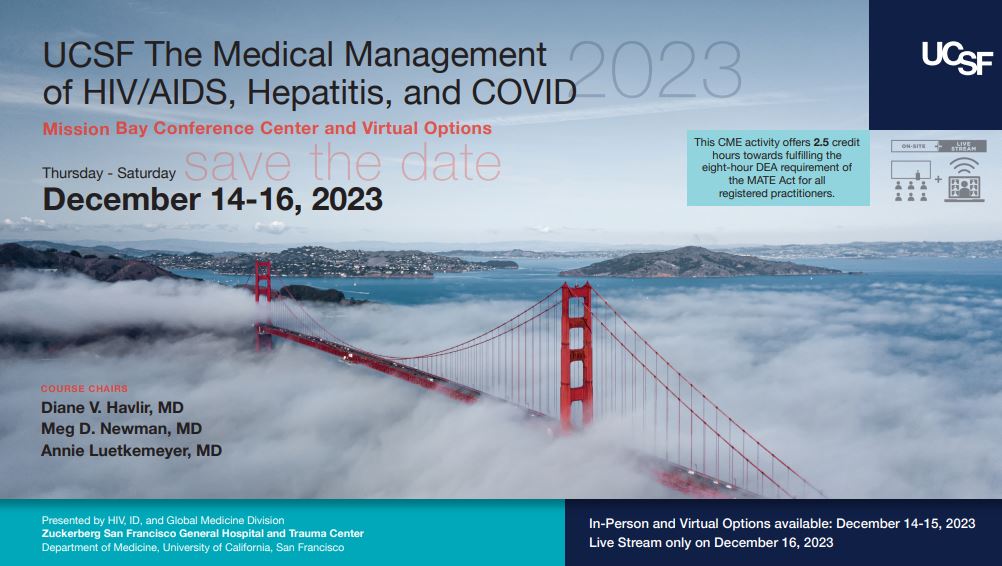 This year, the course will be held on December 14 - 16 with in-person and virtual options available
To learn more about the 2023 Medical Management of HIV/AIDS and COVID Conference, you can also visit: hivaidscme.ucsf.edu